I find it so sad to see my best friends age. Young dogs that used to be big & strong and pulled me for thousands of miles, are now old and weak. It gets too emotional at times. So here's the health update: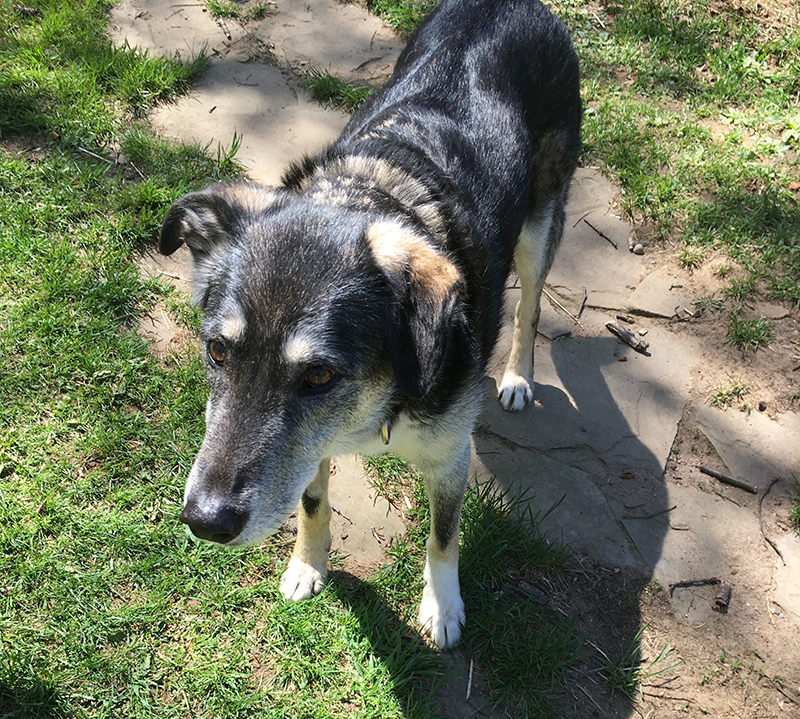 Bruno had very bad teeth, so we brought him to the vet. We found out from the pre-op blood work that his white blood cell count was high, and the vet said this was probably due to his bad teeth.
The day before his dental, there were deer in the yard and the inside dogs figured out how to open the gate. I saw Bruno tearing ass in the front of the house, headed toward the highway. Greg and I immediately went to look for him (Greg in the truck and me on my bike), but couldn't find him. We had visitors arriving, and as it turned out, Greg went home to get my bicycle helmet and our visitors had arrived and they had Bruno! Bruno was in bad shape though. He was hunched over and yelped when we touched him.
They next day he was feeling a little better. When we dropped him off at the vet for his dental, we explained what happened and that the vet should look him over before the dental. The vet seemed to think his spleen was enlarged due to dental infection. He ended up having the surgery and had around 8 or 10 teeth removed! The vet gave him a long lasting antibiotic injection and metacam for 5 days.
He seems a little spunkier now, and will bring him in for more blood work in a couple of weeks.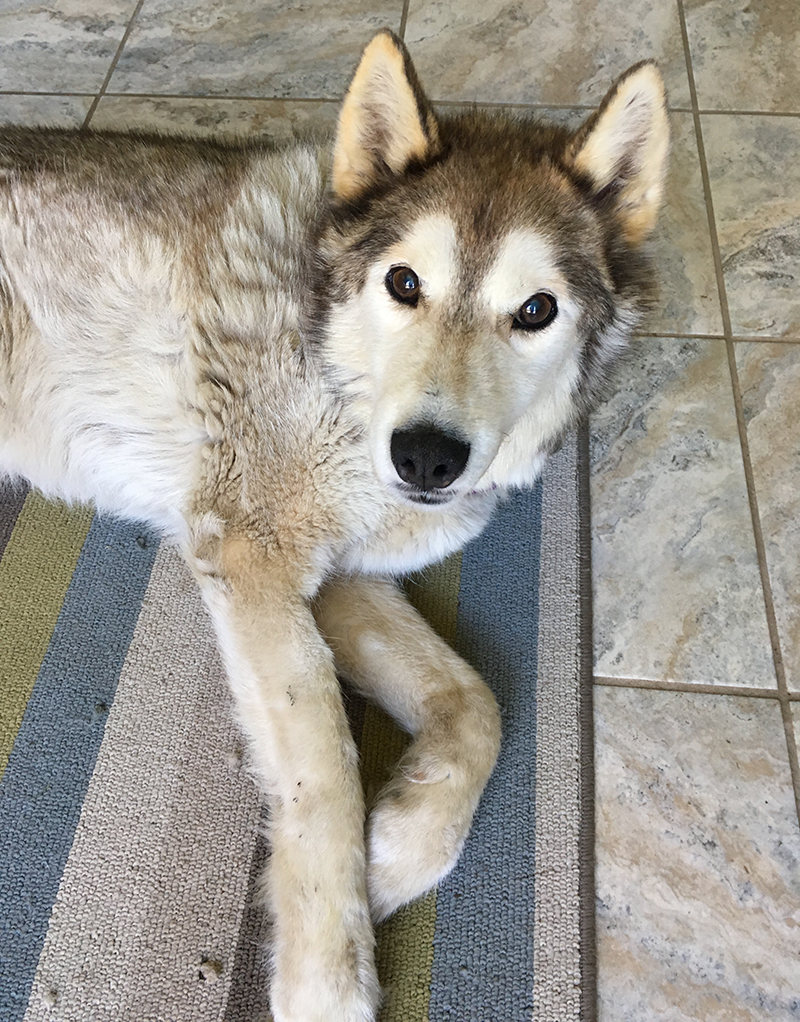 Red had high kidney levels starting in April 2016. The vet put him on Rehmannia Eight, a Chinese medicine. We re-tested his kidney levels several months ago and they were normal. Even though his kidney levels are normal, Red is an extremely grumpy old man (14 years old). He grumps at everyone in the house, especially Chevy.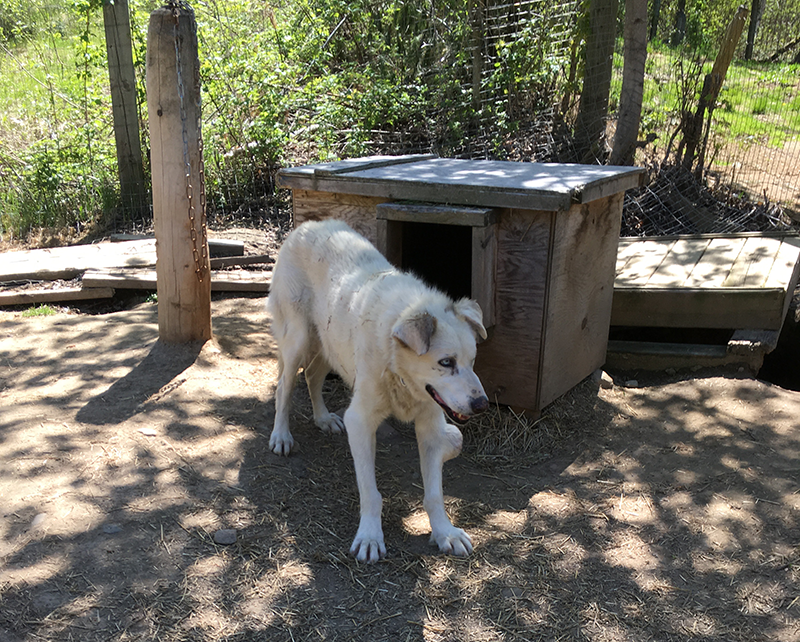 Simba has had a tumor growing on his left elbow for some time. We brought him to two vets, who both didn't want to remove the tumor. A couple of months ago, we brought him back to the vet because the tumor was red and had doubled in size. The vet still didn't want to operate; instead she prescribed dandelion root (2 capsules twice a day). We're not 100% sure, but we think the tumor has actually gotten smaller!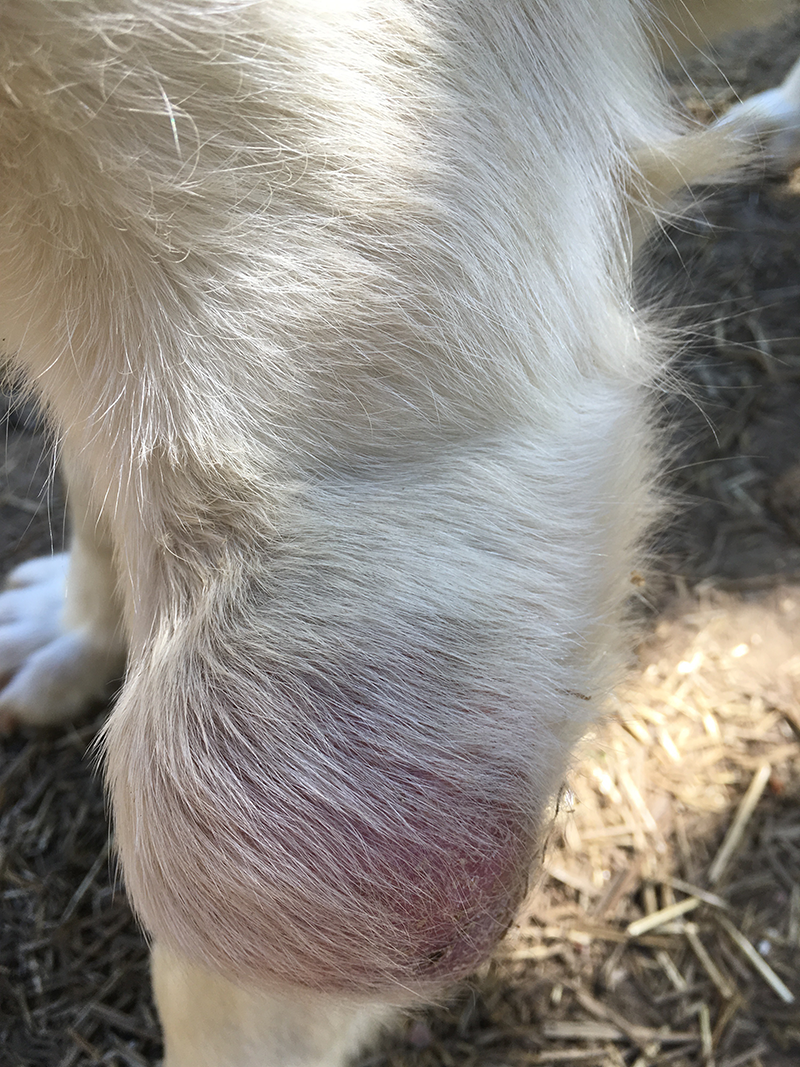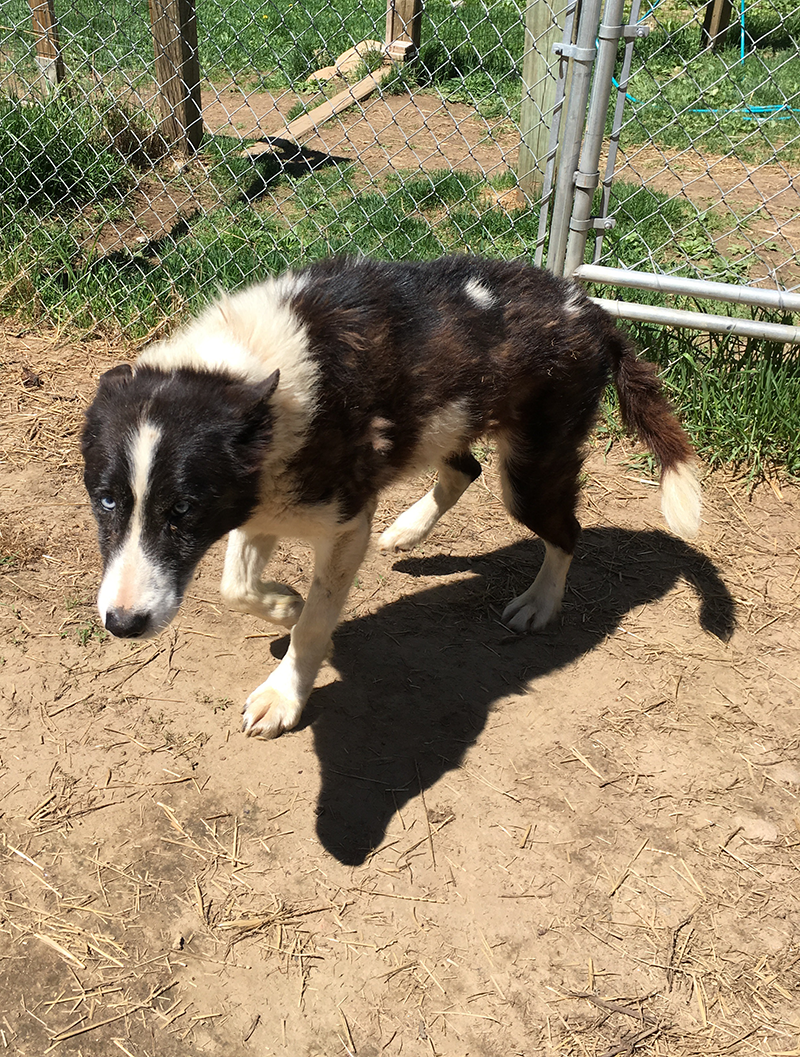 Rattles stopped eating in January. We brought him to the vet in town, who did blood work and didn't find anything wrong with him. In fact, his blood work was excellent for a 12.5 year old dog. I tried switching him to canned food, but he wouldn't eat that; so I tried him on the indoor dog food (Science Diet Senior) and he ate that. Around a month ago he stopped eating again. We took him to another vet, who also didn't find anything wrong with him, but she prescribed a steroid called Stanozolol (2mg). The steroid has kicked in an Rattles is eating again. He's still pretty picky, and skinny, but he's eating.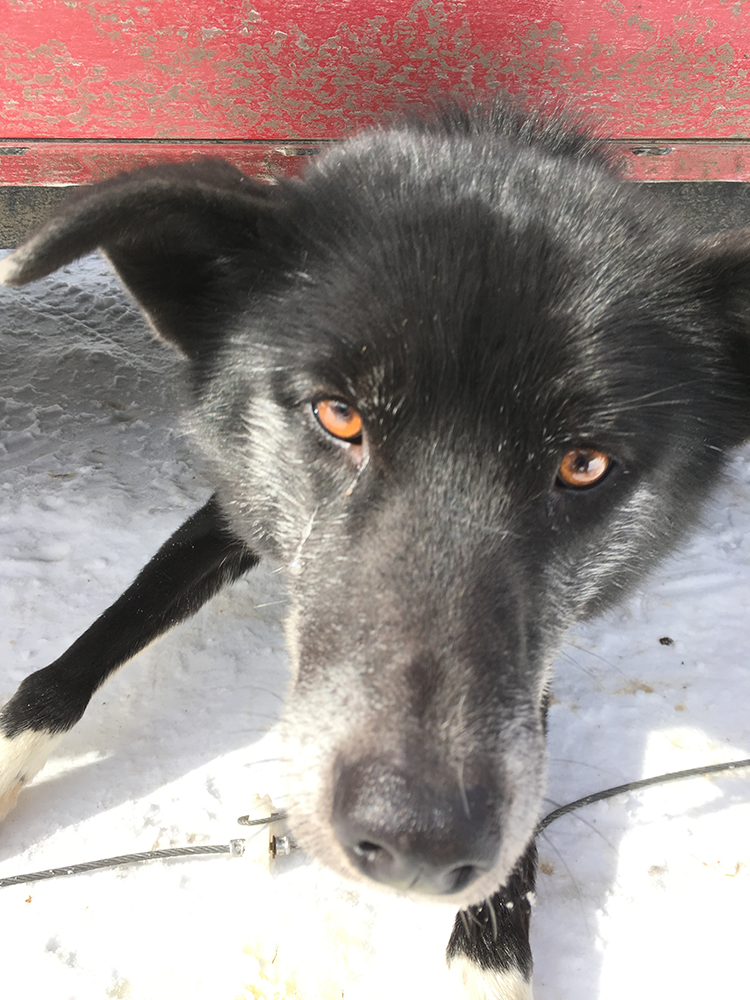 Kraken, now 4.5 years old, has had chronic diarrhea since he was a puppy. We've tried everything to cure him– metronidazole, probiotics, prednisone, psyllium, oatmeal, different types of wormers, etc. When we moved to L'Amable, we treated the kennel for coccidia with Sulfatrim and that cleared up his diarrhea for around eight months! But the poo came back. We asked the vet if he would give us more Sulfatrim. We did a stool sample and it came up negative for parasites, so the vet would't give us Sulfatrim. We told this story to another vet, and she prescribed Sulfasalazine (500mg) and this seems to be working! He still has some mushy poo every now and then, but it's not the chronic diarrhea he was having.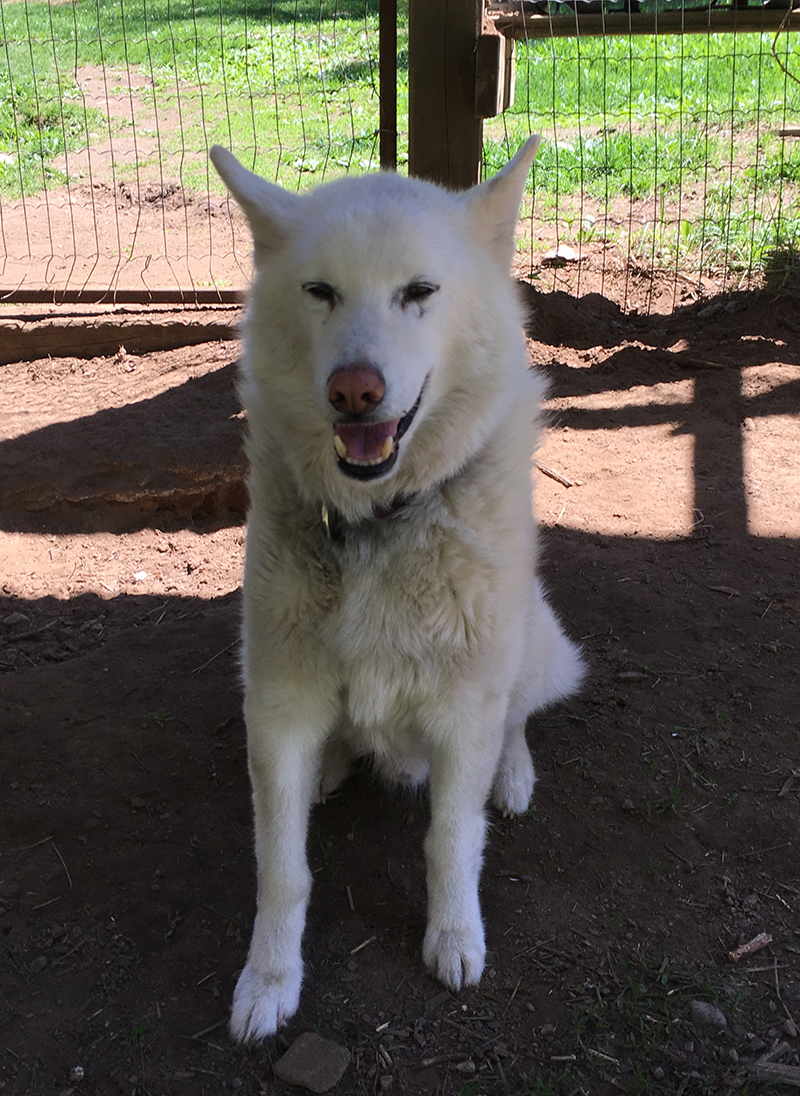 Danny was diagnosed with pancreatitis a little less than a year ago. It's under control now. He eats oatmeal with every meal, and when he starts to skip meals I give him digestive enzymes which seem to help a lot.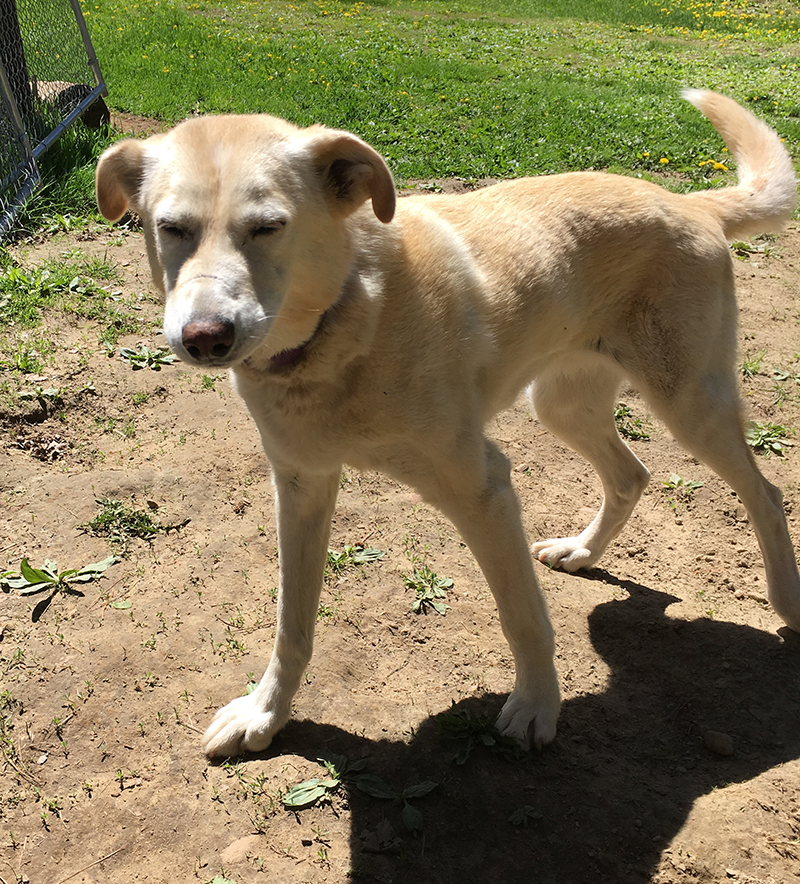 Spike has fully recovered from getting her ass kicked, twice[1] [2], and almost dying from a sucking chest wound. Whenever we leave the house and during evening dog party time we put Spike in a crate to protect her. She's starting to get cocky again, so we need to keep a close eye on her.