Previously, I wrote about critters of L'Amable. Since then, we've seen more critters, and signs of even more. We've seen a lot of turtles, but this one was particularly big and disruptive to the dog yard.
On our running/mushing trail in June, around 2 miles from our house, I saw a trio of baby fishers. These are related to weasels. And, on another dirt road a few miles away, I saw an adult fisher. They were too fast to get a photo, though. We did hear one very close to the yard, one night. They sound a little like a dog or fox: barkey and sort of whiney. They have a reputation for being fierce, with sharp teeth and claws. But, like most wild critters, they avoid humans.
The big news is we found a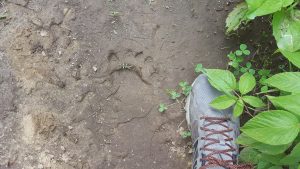 bear print. This was on the same running/mushing trail as the baby fishers. Estimates from the government are that there are over 175,000 bears in Ontario, mostly black bears. This is the footprint of the front paw of a bear. We've never seen bear around here, but have seen occasional bear poop.
We have also seen lots of turkey vultures – these are huge birds that soar from trees and alongside the road. And, finally, we have continued to see wild turkeys. The family in the earlier post has not returned this year, but we frequently see wild turkeys alongside the highway heading towards Madoc.