Ilana and I completed the Haliburton Forest races yesterday. Ilana ran 50K, I ran 50M. We have been training hard all summer, so were ready for the race. Ilana finished 25th overall out of 78 runners, 6th of 18 female runners, with a run time of 6h36m. Greg finished 25th overall out of 53 runners, and 6th out of 10 "over 50" runners, with a run time of 10h56m. Both of us are happy, and had no notable problems or injuries.
Here is what Strava, a run tracker, says about my excursion: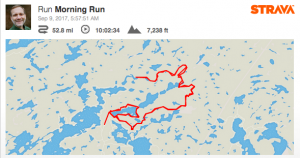 . Note that it thinks I ran 52.3 miles, not 50M as the race says. Maybe the race was a little longer than 50M, or maybe the GPS in my phone wasn't fully accurate due to the rolling terrain.
This is a trail race, with 80% on trails and 20% on gravel roads. The trail conditions were moderate this year: overall firm, with no new rain. But many muddy sections. Also, the trail is fairly rough: some uphill and downhill areas cannot be run, they are more of a scramble. Some sections had long grass, though mostly it was packed dirt and rocks. There is logging along some of the trails, so those trails were wider than when I was there last year, but rutted. The races are out-and-back, with a loop around a lake in both directions. The 50K turnaround is at 25K, and the 50M turnaround is at 25M. The trail from the 50K turnaround to the 50M turnaround was dominated by wide packed trails, logging roads, and gravel roads, so was not as challenging as the very steep parts of the 50K trail.
I took one dive into the mud, when I slipped on a rock that was under a coating of mud. This coated my whole front with mud! And, I took one stumble and banged my arm, at a location where I stepped on a log, it sunk into the mud, and then I tripped on the next log. I was wearing brand new Wigwam Ultimax socks, and threw them out after the race: the ankles had both worn through, and the uppers where shredded – due to the grass and other brush we ran through. Better that my socks got torn up, than my legs! Here is the "after" image: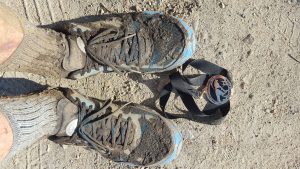 .
You can see I was wearing almost-new New Balance "Leadville v3" trail running shoes. There are excellent, and I've almost worn out the prior pair I was training in. You definitely need trail running shoes for the Haliburton race, otherwise those rocks and uneven places will be harsh on the feet. I found this pair after I realized that the narrower toe box on Brooks and Asics shoes, which had been my mainstay for years, were too constraining and resulting in lots of toe problems. Especially on longer runs, when the feet tend to swell.
In preparing for this run, I remembered that in 1978 I did a 50-mile backpacking trip.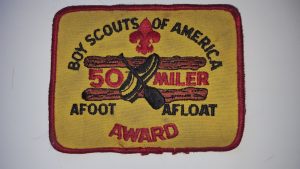 This was at Camp Chesterfield in Massachusetts, a boy scout camp. My neighbor and friend Ed Coffee, scouting friend Victor Gale, and I did a three-day series with backpacks and tents. The first two days were 10 miles each, and the third was 20 miles. This was a big deal, and those packs were heavy. Thirty-nine years later, it's great to have another 50M excursion completed, and it's gratifying that I have the necessary the health and stamina.
For more info about the race, including timing and photos, visit http://www.haliburtonforest100.org/
I am definitely considering doing the 50M race again next year. I'm less enthusiastic about trying to move up to the 100M race because the trail is so rough and rocky that I think it would be really challenging to navigate in the dark. With a finish time of around 11h for the 50M, I would expect it would take close to 24h to run 100M – including 11h in in the dark! Meanwhile, though, Ilana and I have both enjoyed training for, and participating in, these long runs.