The Adventure
After 28:07.02 hours my team (Anarchy AR) and I completed the short course #3 (around 103 miles) of the 2017 Wilderness Traverse (WT) in Parry Sound, Ontario.  The team leader, Brady, had participated in the WT in 2015 and 2016. Matt and I were rookies.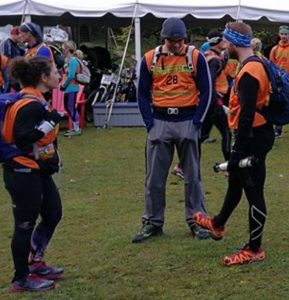 The course consisted of:
Leg #1 – Trek (7km/4.34m)
Leg #2 – Mountain Bike (24km/15m)
Leg #3 – Trek (20km/12.5m)
Leg #4 – Mountain Bike (79km/50m)
Leg #5 – Paddle & Portage (20km/12.5m)
Leg #6 – Trek (7km/4.34m)  This is crossed out because our team didn't do this part of the course; we missed the cut off time to participate in Leg #6.
Leg #7 – Paddle & Portage (14km/8.7m)
Leg #1- Trek (7km/4.34m)
We kicked off the WT with a short 4.34mile loop run, starting and finishing at the Grand Tappattoo Resort.  The trek was on the road, so we ran the entire way, and got to Leg #2/Transition Area #1 in 40 minutes.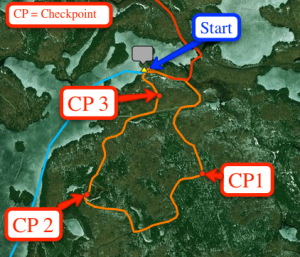 Transition Area #1 (Trek to Bike)
We were pretty quick in the transition area. We took what we needed for Leg #2, the first mountain bike leg. My estimate is that we were around 5-10 minutes "transitioning" and then we were off.
Leg #2 – Mountain Bike (24km/15m)
The first part of this leg was on the road. We came to a stop due to a train crossing. Around 10 teams were stopped. This is when my left bike shoe clip decided to actually work and I couldn't get my clip undone, so I fell and banged/scraped my left knee for the first time (there would be several times of repeated falling due to not being able to get out of my left shoe clip).
This is where I learned that my mountain biking skills weren't the greatest. I've ridden on single track routes a couple of times, but I found this challenging. What I really found the most challenging was getting my feet out of the clips! At one point I decided the best way to stop was to just fall over.
There was a lot of wet sand, long puddles with rocks, and various other obstacles. At one point I fell over on a bridge — this was due to being unbalanced, not the clips.
We arrived at CP 5 at 9:53am, so it took us around an hour to complete this leg.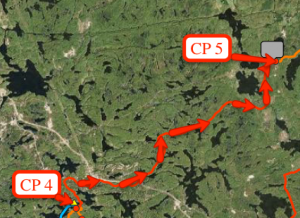 Transition Area #2 (Bike to Trek)
I'm not sure how long we were in this transition area. I needed to fill up my water bladder, change from biking shoes to trekking shoes, and that's about it.
Leg #3 – Trek (20km/12.5m)
I really enjoyed the bushwhacking leg.  Brady, the navigator, led us from CP 5 to CP 8. He did a great job navigating. We deviated south a little bit (see the map below, we're the blue line. Orange is the route the race organizers took). We also did a marsh/swamp walk, where the water was up to my waist. The only wildlife I saw on the trail was a brown bunny.

To get to CP 7 we did a 15o meter swim, and then from CP 7 to the trail we did another 150 meter swim. Some teams took off most of their clothes, but all of team Anarchy opted to swim with our shoes, clothes, and packs on.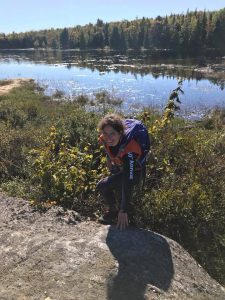 I was a little chilly after the swim, but we kept on trekking to stay warm.
Transition Area #3 (Trek to Bike)
We arrived at CP 8 /TA 3 at 4pm. I have no idea how long it took for us to get in and out of this transition area. I needed to fill up my water bladder, change my wet socks, put on bike shorts (over my wet tights), put on a light fleece top, and put on bike shoes.
Leg #4 – Mountain Bike (79km/50m)
Ugh. This was the leg I was worried about and boy was it tough. Due to my inability to get my shoes unclipped, Matt took off my cleats (the gadgets that pop into the pedal). And this was a very good idea! This section of trail was hard. LOTS of water, mud, rocks, hills with rocks, more mud and water. Probably halfway through my brakes died. Matt and Brady both tried to fix them a couple of times, but the fix didn't stay. I often walked down the rocky hills because I didn't want to kill myself.  My chain fell off several times. At least my headlamp worked! I needed to change the battery once during this leg (during this leg we transitioned from daytime to nighttime). I often walked up the hills because I couldn't negotiate the hill and the rocks at the same time!
Finally we got to the road and had around 25km (???) more to go! I remember riding my bike down a hill to the road and told the photographer to watch out because I couldn't stop due to having no brakes. Once we were on the road I didn't have to worry about my brakes not working– I just wouldn't stop going downhill.
There was one navigation error made on the road, and we probably rode around 30-45 minutes out of our way, but we got back on track. I was pretty cold, and when we turned around after realizing we were going the wrong way I put on my lightweight rain jacket.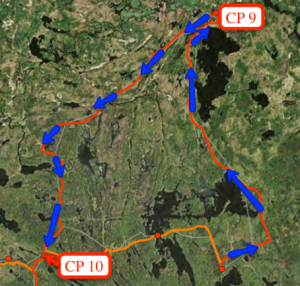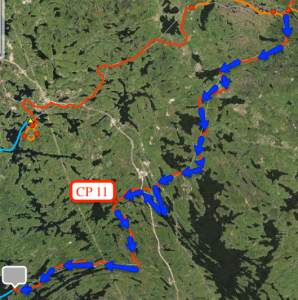 Transition Area #4 (Bike to Canoe)
We arrived at CP 10 and the transition area at 12:30am. It took us at least a half hour (I think!) to get out of this transition area. I changed into dry tights, dry socks, a big fleece jacket, and my wet trekking shoes. Word on the street was that there was fog ahead.
At this point Brady told us that we weren't going to finish the entire course, and we'd shoot for short course #3. I was bummed about this until I after the race where I saw that only 7 teams completed the entire course.
Leg #5 – Paddle & Portage (20km/12.5m)
Talk about fog! WOW! We couldn't see a thing with our lights on, so we paddled with our lights off. The first paddle configuration was Brady in the bow (up front), Matt in the stern (steering in the back), and me in the middle on a foot stool. Sitting on the foot stool hurt my ass! At some point Matt was getting very tired and falling asleep and having a hard time steering (which was understandable because it's difficult to steer with the two people in front using kayak paddles and not paddling in sync.).  We pulled over to shore (once we found the shore) and I switched with Matt. Now I was in the stern steering and he was in the middle.
At some point the fog cleared a little and the sky was filled with amazing stars! I felt like I was back at Outward Bound paddling at night in the Boundary Waters looking for our campsite.
We arrived at checkpoint 13 at 3:38am.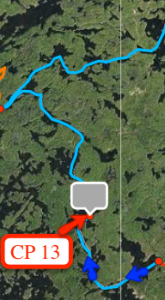 Matt was really tired and we almost tipped once when he fell asleep paddling in the middle of the boat, so we got out of the boat for a little rest. There were other teams huddled around the small fire at CP 13. I wandered around looking for firewood, but there was little wood to be found. Matt fell asleep and almost fell into the fire, so the checkpoint personnel moved him to the picnic table and was propping him up. I sat on one side of him and someone else on the other side of him so he didn't fall over. I'm not sure how long we stayed at CP 13. Perhaps 45 minutes to and hour? Eventually we were on our way again.
The next route was supposed to be a short paddle to the first portage, but we turned into the first bay instead of going straight. I think I mentioned this to Brady, and asked to see the map, but he said the map was attached to his pack and he couldn't pass it back. So we wandered around the bay for a little until Brady figured out we were in the wrong bay.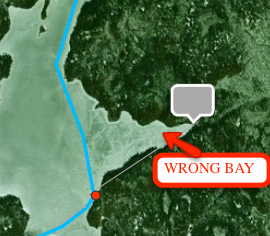 We got back on course and headed toward the first portage. I think it was light out by now, but I don't remember. Matt carried the boat for the first portage, which was 1200 meters.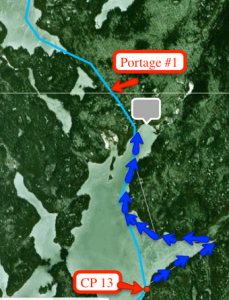 Going into the race I definitely wanted to carry the canoe during portages, but my knee was screwed up and the canoe was much heavier than Outward Bound canoes, so I was okay with not portaging the canoe.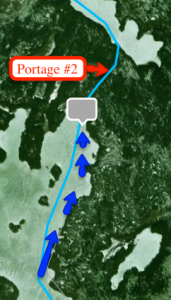 I'm pretty sure Matt carried the boat for the second 900 meter portage. When we got to the end of this portage Matt was super tired (we all were) and needed to nap. Matt took a nap lying on the ground and I napped sitting up. Brady stayed awake. Around 45-50 minutes into the nap Brady asked if I was ready to go and I said yes. He poked Matt with a kayak paddle to wake him up (don't wake up a sleeping bear) and Matt reluctantly got up. The nap actually energized me quite a bit. We were on our way to CP 14. I  think there was a 300 meter portage to go through where Brady carried the boat.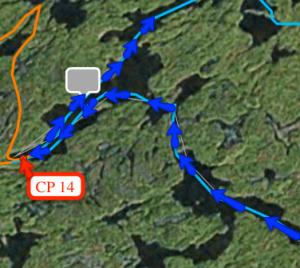 Paddle & Portage (14km/8.7m)
We still had a way to go to the finish. There was a short portage or two (?) and a super long one. For the super long one, we were supposed to cut into a driveway to find water, but we didn't find the driveway, so the boys portage the canoe for around 1.2k (.7m).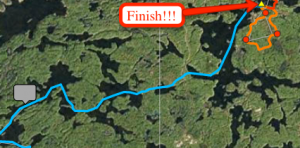 We tried to paddle hard, but were so tired I don't think we were moving very quickly. We arrived at the finish line at 12:07pm!! Yay Team Anarchy!!!!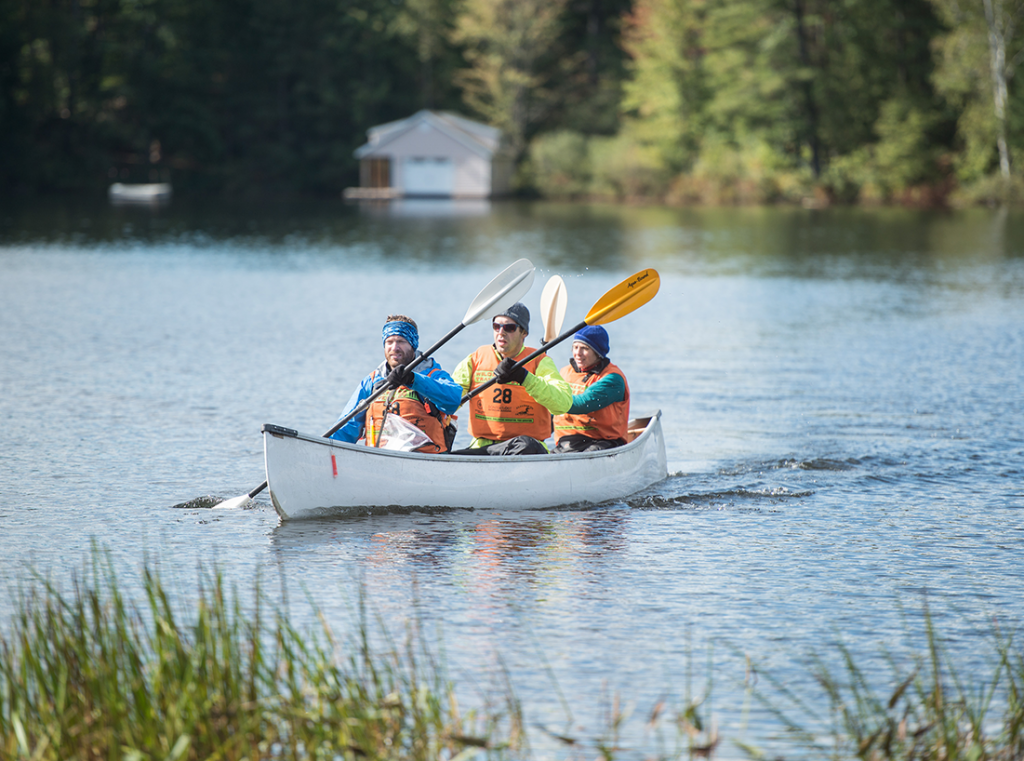 Synopsis
We each had our strengths and weaknesses, and for a team that hadn't practiced together I think we did very well. I had met Brady twice before to practice paddling. Matt and I never met.
Brady was a very good navigator, as well as good at mountain biking and sprint running.
Matt excelled at mountain biking– that was definitely his thing. He was a strong paddler when he was awake.
I was good at running and steering the canoe (although I did forget how to steer at one point during our travels).
Nutrition & Gear
My nutrition sucked. I brought a lot of nuts, potatoes, pasta, Larabars, and candy; but really only ended up eating Larabars, Oreo cookies (which I appreciated), and some candy. I don't even know how to improve upon my nutrition, except perhaps bring protein shakes and put them in water bottles.
Water was another issue. I drink a lot of water and had a 3 liter water bladder and ran out of water quickly on the long trek and the long bike ride.
The gear I had was fine and I made a good choice of wearing my big black fleece for the canoe part. I was cold during some sections of the trek after the swim, and my hands were very cold during the mountain bike part, so I think bringing handwarmers would be smart.
Would I do it again? Yes! Most certainly, but I need to work on mountain biking, paddling with three people in a canoe using kayak paddles, and navigation.