Lake Laberge is known to be a scary lake in the summer and the in winter.  Although Greg and I have some winter lake travel experience, which we gained while mushing in Ely, Minnesota at Voyageur Outward Bound, we are still timid when it comes to traveling on Lake Laberge.
This year we heard that a trail was in that when around Richthofen Island– which is an island close to our house. In fact, we can see it from our window.
On the weekend, V, Sneaky, and I snowshoed to the north tip of the island and Greg did a loop around the island on snowmachine. It all looked great!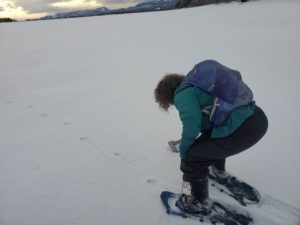 The next day V and I were supposed to mush around the island. From my window I could see that someone had set up an ice fishing hut right on the trail.  I was concerned that a) they left a big ice hole on the trail and b) their hut would be blocking the trail. I was right about (a). Due to my hesitancy, I asked Greg if he would take the snowmachine out and lead the way. He said "yes!"
We each had a team of six, which was a good choice because there was no way to stop the teams because there wasn't any snow to hook into and our hooks didn't hold on the ice. We even had to radio Greg a few times and ask him to come back to us to fix tangles.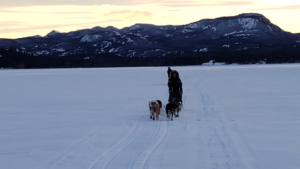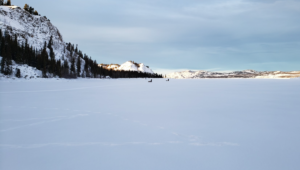 We were having a super time until we hit the east side of the island. Apparently, pressure ridges grew overnight. A pressure ridge forms due to moving current and when ice floes meet. At around 1 foot high, these ridges weren't very tall– but still very tricky to hop over on a dog sled. There was also slushy overflow around the pressure ridge area. Greg scouted the route and found us a way through.
Then we faced the next challenge. At the south end of the island Greg broke through to water while snowmachining over a soft section. The hole was as long as Greg's snowmachine and V's sled.  Greg radioed me letting me know there was open water. I couldn't stop the team and responded "I can't stop and they're ready to go, so move outta the way!" As soon as I saw the open water I was afraid. Geri bopped into the water and was swimming, but she pulled herself out and we made it! Vico and team made it with no problem! Sneaky jumped over the entire distance!
After that we mushed west from the Island to the Deep Creek campground boat launch  and then headed north. That trail was much better– although we did have a brief dog fight when snacking the teams.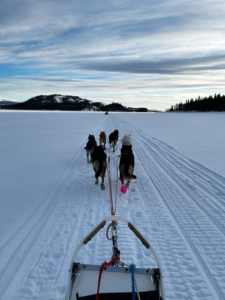 Not sure if I'll be doing that route again, but it sure was a beautiful sunset!