Two weeks after Spike got beat up, she was recovering nicely; and Jack was unable to open the new latch Greg installed. We thought everything was okay.
On Jan. 21st, Greg and I left the house together to go to Oshawa (around 2.5 hours from here) and came back to a beaten up Spike, and Jack in the inner dog yard. Spike was on our bed and it was clear that she needed to go to the vet for stitches. Jack was hanging out in the back yard.
We're not sure what happened. Either:
A. There was a ruckus with the inside dogs (Spike and Mira), thus exciting Jack and causing him to jump out of his pen and then jump into the inside dog yard, or
B. Jack jumped out of his pen and then into the inside dog yard, causing Mira and Spike to fight.
Whatever happened, we were extremely embarrassed to go back to the emergency vet in Peterborough. Spike has a cone and a drain, and is once again on antibiotics and pain killers. Mira is sporting a scratch. She didn't need to go to the vet, but she's on antibiotics.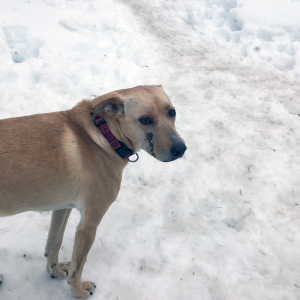 Jack spent the night on his chain last night, and today we attempted to Jack-proof his pen. We're hoping he's just a jumper and not a climber. If he's a climber then we'll need to add additional fencing.