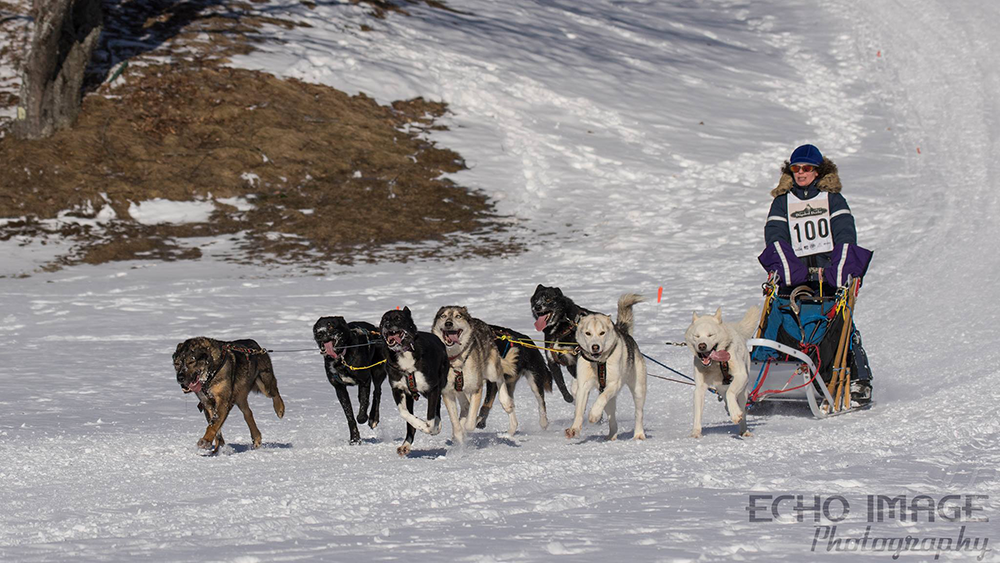 This was our second year at the 2017 Haliburton Highlands Dogsled Derby, which are basically sprint races. The weather cooperated for us (meaning it was cold enough for Wayne to be able to run) and on Sat. March 4th it was around 16 degrees Fahrenheit; Sun. March 5th was a little warmer at 26 degrees Fahrenheit.
The champion line up was:
Wayne & Stella (Lead)
Moe & Siren (Point)
Ted & Medusa (Team)
Jack & Kraken (Wheel)
This was Ted and Jack's first time riding in the dog truck and racing. They ran okay, but couldn't really keep up with the other members of the team. On Day 1 we ran the 4.86 mile course in 28:17.90. On Day 2 we ran the same course in 28:12.67– which is surprising, because if felt like we were going much slower on day 2.
On Day 2, around 5 minutes after the start, we (Jack and I) hit a tree. Jack's body (I think it was his body and not his head) slammed into a tree during a turn and my knee followed. We didn't hit the tree that hard, because I was going slow trying to negotiate the tree and rock. After hitting the tree, Jack wouldn't run. He tried to slip out of his collar by pulling backward. I stopped the team and rested for around a minute and tried again, but he still wouldn't go. Finally, we saw another team in the distance running the opposite direction. Jack looked at the other team and forgot he was scared and started to run again.
That night Jack didn't eat dinner and he ran into a post, so we thought that perhaps he did hit his head and had a concussion.
Even though we came in last, I won $80 bucks and a hatchet! It's refreshing to win something besides red lanterns.