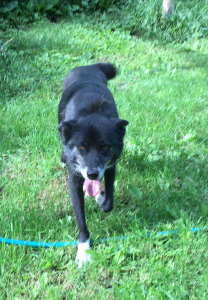 Name: Kraken
Aliases: Whiner-Shitzel; Krackles, Crackhead, Cracker, Krak-man
DOB: 10/15/2012
Breed: American Husky
Acquired: From neighbor.
About: Kraken is a true little monster! He claws and paws and pulls my hair and climbs on people. He's in the process of learning to sit, and he's having a lot more difficulty learning this trick compared with his sisters Medusa and Siren.
Bad Habits: Claws, paws, climbs, and pulls hair.
Likes:
~To play with her brothers and sisters.