Che suddenly left us on Dec. 21, 2014.  In the morning of the 21st I found Che laying outside in the snow. I tried to stand him up, but he collapse, so carried him inside. Greg (who just arrived from Saudi a day ago) and I brought him to the emergency vet. Where the doc said he was very sick. He had a 104 temp and was dehydrated.
We explained medical history to the Doc. He had megaesophagus, which often made him regurgitate after eating and have frequent bouts of pneumonia due to aspirating his food and water.  On Wednesday the 17th Che didn't finish his dinner. I thought this was strange, but figured it had to do with his health. Also, he had been loosing weight– another symptom of megaesophagus, and he was having more frequent vomiting episodes. I was planning on bringing him to the vet for a checkup the week of the 22nd.
After doing blood work, Doc P. gave Che intravenous (IV) fluids with injections of Ampicillin and Baytril.  Che started crashing, so she put him on oxygen and hooked up an EKG– where she found his T waves weren't normal. Also, the blood work indicated he had very high levels of lactic acid buildup.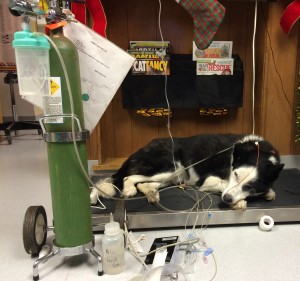 With the fluids on board, Che began to perk up! The plan was to get him stable enough to take some exrays.  His perkiness didn't last for long.
When bile started coming out of his nose, she gave him Cerena to help with the nausea.  Then there was an awful smell– which I call the "death smell" and he pooped out blood.  Minutes after that he died.
So what killed Che? Che had a bad case of aspiration pneumonia.  The IV fluids perked him up, but when his blood started flowing again the toxins released in his blood stream and contributed to his death.  Doc thought there was something else going on besides the pneumonia– but we'll never know.
Che was a great dog who had gained a couple of lives after killing our cat Spot. In 2012 he survived having bloat and in 2011 he survived his overdose of Rimadyl.  In 2009 or so he went blind and when he was a pup he had a mysterious hacking illness that the vets couldn't diagnose.  He was an excessive drooler, possibly due to the megaesophagus or his mystery illness.
Che was quite the brat when we first got him. He had a short life as a lead dog and ran a couple of 100 mile races before he moved inside.  He mellowed out after he went blind and became a good friend and offered lots of comic relief.
We all miss you Che Chez!!