On April 3, 2020 we put 16yo Nickel "Nikki" Newby to rest. Nikki will always be remembered as our amazing champion lead dog. In her youth, Nikki was always ready to lead– even if it meant running next to Chevy (nobody wanted to run next to Chevy!).
Before starting out Nikki would get very excited and could be seen jumping in the air. Nikki knew what to do– be it deep snow, overflow, ice — she would lead the way. She even knew her gees and her haws.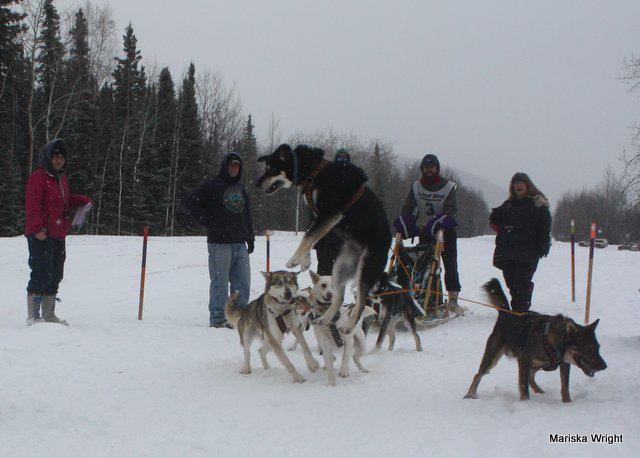 Around a year ago, Nikki was diagnosed with multiple issues in her abdomen. She was put on various meds (codeine and gabapentin for pain; ursodiol for her thickened gallbladder; metronidazole for other stomach related issues); and she had many good days as well as some bad days. She also got to eat a smorgasbord of whatever she wanted (boiled chicken, Rollover, raw beef, canned food, kibble, etc.).
On March 2nd she had a strange "episode." She was confused, didn't want to eat breakfast, and went outside to lay down in the snow. We made an euthanasia appointment in Barry's Bay, but by the time we got there she was feeling better.
Unfortunately, her feeling better didn't last very long, as the week of March 23 she really slowed down and she wasn't eating or even trying to jump on the bed. By April 3rd, it was time.
We brought her to our local vet, who, in the midst of COVID-19 was kind enough to allow us both in the clinic to say goodbye.
Nikki Newby, you were one special dog and are greatly missed.