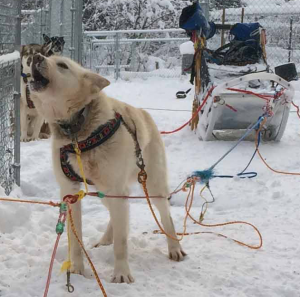 On July 5th 2018 we said goodbye to our sweet little 12.5yo Capella pup. A little over a month ago we brought Capella to the vet for an old lady checkup. I noticed that she was slowing down quite a lot, hence the trip to the vet. During our evening StinkyPup parties, where we let everyone run around and play, Capella would come out of her kennel for a couple of minutes and then go back in and lay down. She was diagnosed with mammary cancer, given herbal chemo, Tramadol, and alternative meds. Capella was okay for around a month. Her energy didn't increase, but she ate with gusto and looked happy. Around two weeks before her death she began to be more lethargic, and several days before bringing her to the vet she had stopped eating. We weren't 100% sure if the not eating was due to a massive heat wave we were having (94 degrees F for several days). We were bringing the little girlie inside so she could enjoy the air conditioning.
When I brought Capella to the vet on July 5th, the doc said Capella's mammary cancer had spread significantly. The doc agreed with me that it was time, and said mammary cancer was usually quite painful and dogs tend to shut down when this happens.
There was one funny story about her death– Greg couldn't be with us due to his job and being out of town– so he sent me sympathy flowers. He filled out an online form for the local flower shop and selected "a funeral occasion." Apparently, since he selected "funeral occasion," as an option on the form, the flower shop got a little confused. They called the one and only funeral parlor in town to see if "Ilana was there"– with "there" meaning "dead." I wasn't "there," so they called Greg to let him know. Greg explained to them that no– his wife was not dead, the flowers were because our dog Capella died.
Capella was an awesome sled dog. Just like her human momma, Pella had frizzy unkempt hair and was a slow but steady runner with much endurance. Capella pulled her little heart out.
My favorite story about Capella was during the river crossing for the Copper Basin 300 in 2014. As I was dragging each individual dog across the Gulkana River, Capella unharnessed herself and jumped onto a small iceberg in the river. She looked like a mini polar bear– it was adorable.
This year, at 12 years old, Capella retired from running. She ran a total of 24 miles this year. She would have been happy to keep running, but she looked like she was struggling so we pulled her off the team.
We will miss our spunky, frizzy-haired, little white girlie.