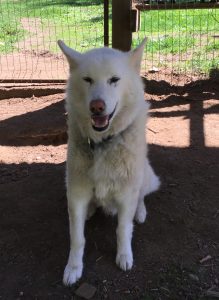 Danny hasn't been eating well and we thought his pancreatitis was acting up again. We brought him in for blood tests and it turns out that he has low thyroid levels. He's been put on Thyro-Tab, .4mg 2X a day.
We've had other dogs with low thyroid, but the only one I remember that stands out was Luke who had very low thyroid.
Around a month ago Danny was eating his front left leg and was limping on the same leg. The vet gave us Tramadol for pain and Apoquel for allergies. After a week he hadn't improved, so be brought him back for a recheck. He was prescribed a topical cortisone medication and had to wear a cone. Also, he's not allowed to go on walkies anymore, which he is not happy about.
His limp has improved and skin is clearing up.