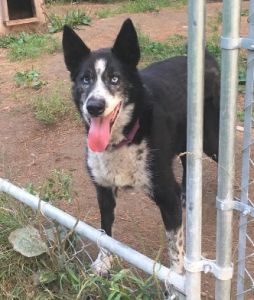 13 year old Roo died on Oct 6th 2016, around 1 month from the date she was diagnosed with an osteosarcoma. Roo (short for Roulette) was a champion leader we adopted from the Fairbanks North Star Borough Shelter. She was a beautiful super high energy girl who didn't get along with females, except for her sisters Nicky and Decker.
Roo was a champion leader, but in retrospect she would have been a better sprint dog than a distance dog. I remember the first time I put Nicky and Roo in lead and headed out through the Two Rivers maze of trails up to the 26 mile road crossing. I trusted in dog and they knew which way to go even though I had no clue which trail to take.
She lead for me on the 2009 Serum Run, but the 60 mile days were very hard on her and by the end of the day she rode in the basket. Due to her anorexic tendency and her tiredness, I dropped Roo from the run and she flew home early from Ruby to Fairbanks. Soon the rest of the Stinkers followed because 2009 Serum Run was cancelled mid-run due to too much snow (ha!). After that experience, Roo didn't run many distance races and she preferred short 7 miles runs.
We're so sad that Queenie Roo is no longer with us.
Due to their age, were wanting to move Nicky and Roo inside, but Roo didn't get along with other female dogs. Now that Roo has passed, we've moved Nicky inside and she is adjusting well. On her first day she took over the bed, but soon decided she prefers the mud room so she can growl at everyone coming in and out of the dog door.