When we brought Danny to the vet two weeks ago, he had a small patch of missing hair on his wrist. The vet thought is was possibly non-contagious mange and gave him Bravecto to treat mange.
The Bravecto didn't help and soon Danny was missing a lot of hair due to eating his paws and feet.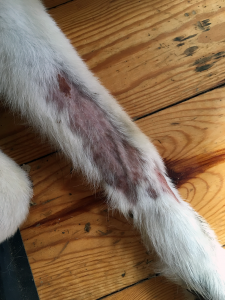 We put a e-collar on him and brought him to the local vet. Who said it was most likely allergies due to the very dry summer. Note, both vets didn't think his condition is due to pancreatitis. The local vet gave us a medicine called Apoquel, which Danny needs to take for two weeks. Poor Danny. We hope this new med works!