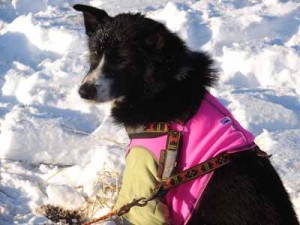 Name
: Chevy
DOB
: 2004
Date Adopted
: Aug. 16, 2008
DOD
: Feb. 19, 2020
Breed
: Alaskan Husky
Acquired
: From neighbor Tammi Rego. Per Tammi on her
kennel site
"Chevy is a nice dog…from Gerry Willomitzer. Chevy is a powerful boy who runs in team, wheel, and recently is developing into a good leader…"
About: Chevy is one of our best leaders. He usually all business, but occasionally likes to goof off, especially during early training season– when he sings "yip, yip, yip" down the trail.
Bad Habits: Sometimes bothers his co-leader.
Likes: To run!
Spring 2013 Update: Chevy got beat up twice. The first time, Snowball jumped the fence and beat up Chevy. Chevy's pen mates joined in. The second time was much more severe and 10 dogs were on top of him. Chevy moved inside during his recovery and is now officially an inside dog. He has adjusted well, but is a bit growly. He still wants to be alpha.
Read postings about Chevy