Greg had been packing all year, much to Ilana's annoyance. Even before we knew for certain that we would move. Items that hadn't been used were packed away, and inevitably some of those were needed after all. As moving day approached, packing became a priority. We staged boxes and gear in the garage, ready for the big U-Haul's arrival day.
Meanwhile, we were looking for helpers for the journey. The helpers from 2015 were willing, but stuck in the US due to COVID-19. There was no way they would be able to join.
We found some great helpers, to accompany the move on the big 3300+ mile (5500+ km) journey across Canada. Sarah is Ilana's buddy from adventure racing. She and Rosie expressed an interest, and made a visit to our house to meet the dogs and talk about what's involved. Brittany and Nicole were introduced via a mushing Facebook group, and rapidly warmed up to the adventure and exotic travel destination.
With all 6 people identified, we worked on planning. We used a private Facebook group, an online spreadsheet, emails, text messages, and teleconferences.
Our departure was set for Saturday, October 10. This is a little later in the fall than we would have liked, but Ilana was teaching a course that ended the day before, and we could not embark while she was teaching.
Truck pick-up was for the biggest U-Haul (26-foot) plus a trailer to haul our fence panels. Greg had stayed at the house in Whitehorse a few weeks previously and, with some great local help, installed the perimeter fence. Our fence panels would be the pens for the groups of dogs. We're a chain-free kennel that has anywhere from one to four dogs living together in an enclosed kennel. Every night, the dogs get let out to run around and play with each other, before dinner.
Our local U-Haul called me on Monday, to say that we would need to pick up the truck in one location (Paudash, 20 minutes south-west of Bancroft), and the trailer in another location (Madoc, 50 minutes south of Bancroft). In exchange for my inconvenience, they gave me a couple of extra days of rental, so we were able to get the truck + trailer on Tuesday, rather than the planned day of Thursday. This was great, since we got a little more time to pack the truck.
When I picked it up, the "check engine" light was on, with a message to check the gas cap. The Paudash rental agent assured me everything was fine, and the Madoc location read the diagnostic code with their auto shop device, confirmed it was probably just a bad evaporation sensor in the gas tank, and cleared the error.
Greg packed most of the pre-packed items on Tuesday night. On Wednesday, Greg and Ilana managed to get the treadmill and Cybex (a very heavy elliptical trainer) into the truck. Greg worked to get things to fit safely.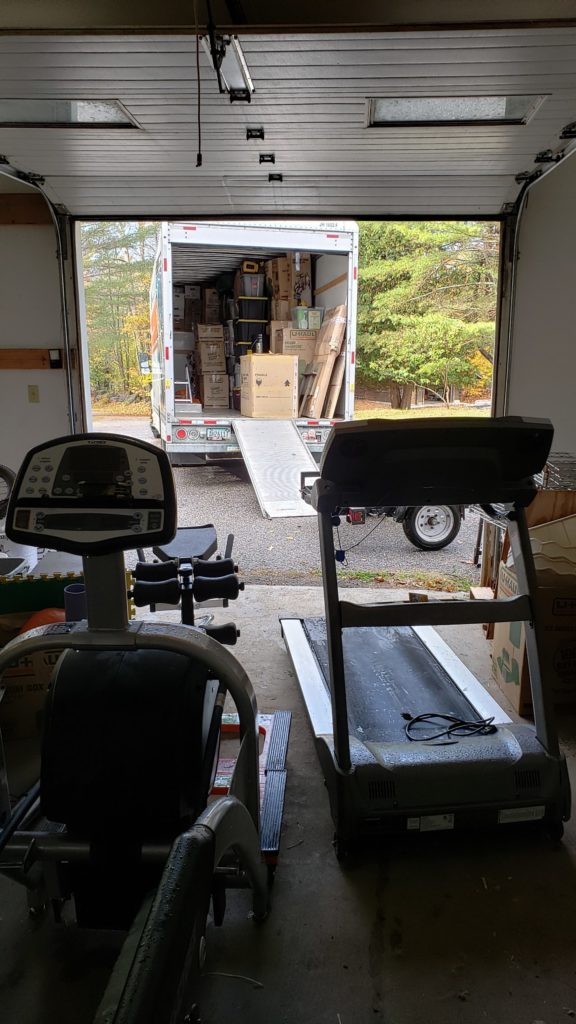 On Friday, we had helpers from the neighborhood. Big shout-out to Ilana's crossfit friends! This included some house clean-up, to make sure everything was spiffy clean for the new owners. Almost everything else got packed into the truck, including kitchen dishes, beds, couch, and other stuff we would do without for our last night in L'Amable.
THANK YOU June, Michael, Kenzie, Morgan, Shane, Tara, Tracie, Madison, Terry, Trevor, Claude, the Hoover gang, and everyone else who helped.
Saturday would be our big departure day. It was tough to sleep the night before, due to excitement. Also discomfort of sleeping on the floor, and by then the dogs knew something was up and were restless.
[This is Post 2 of 11]