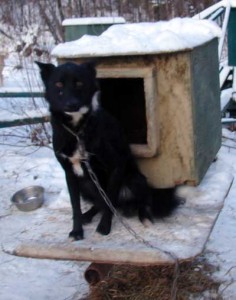 Name: Zeus
DOB: 12/1/2006
Breed: American Husky
Acquired: From my neighbor Jodi.
About: Jodi told us that Zeus likes to screw around at first, and then after a number of miles he's just "pull, pull, pull." I've yet to see the pulling. He tends to pull on and off. Hopefully, he'll get used to our style of mushing and show us his true pulling self. He's a playful cutie-pie.
Update 2019: Zeus officially retired this season. We ran him last season, and after coming back from 20 mile runs his legs would spasm, so I decided he should retire. He gets very enthusiastic when it's hook up time, and I think he still wants to go.
Bad Habits:
~Fights
~Likes to steal my poop bucket
Likes:
~To play with his brother Phanty, and the other dogs in the yard (except for Simba and Rattles, who are mean to him).
Read postings about Zeus