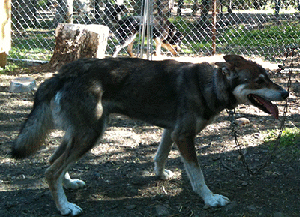 Name: Recluse
DOB: 2005
Date Adopted: June 19, 2013
DOD: Jan. 28, 2019
Breed: Alaskan Husky
Acquired: From neighbor
About: Reculse is very reserved.  We hear he's an awesome sled dog and are looking forward to running with him.
Bad Habits: None.
Likes: Dinner.
Update 2019: Recluse retired in 2017. This year he has a very difficult time holding up his rear legs. He's on steroids and Rimadyl to help, and the doc just told us we should fatten him up, which he'll like.
Read postings about Recluse