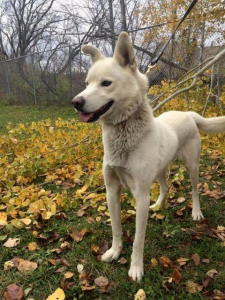 Name: Jack
Aliases: Jaque
DOB: 12/02/2013 (made up birthday)
Breed: Husky
Acquired: Adopted from S.H.A.R.P., who rescued him from the SPA des Cantons in Quebec.
About: Jack is a very strong sled dog, and has a big head!
Bad Habits:
~ Doesn't come when called.
Likes:
~To run on the team.
Update 2019: Jack is turning out to be a fine young man. He usually runs in point, but doesn't know how to pee and run. He's a happy boy now that he has his own bachelor pad, but I think he would like to live with his neighbors (Krak, Shrek, Cozzy).
Read postings about Jack