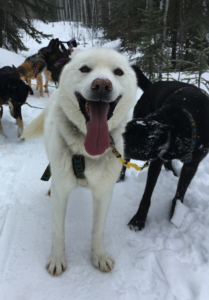 Name: Jack
Aliases: Jaque; Happy-Jack
DOB: 12/02/2013 (made up birthday)
Breed: Husky
Acquired: Adopted from S.H.A.R.P., who rescued him from the SPA des Cantons in Quebec.
About: Jack is a very strong sled dog, and has a big head!
Bad Habits:
~ Doesn't come when called.
Likes:
~To run on the team.
Update 2019: Jack is turning out to be a fine young man. He usually runs in point, but doesn't know how to pee and run. He's a happy boy now that he has his own bachelor pad, but I think he would like to live with his neighbors (Krak, Shrek, Cozzy).
Update Winter 2022: In August of 2022 Jack moved inside due to his constant digging. Moving him inside helped and he doesn't dig as much. He still wants to run on the team and will run in lead. As a leader he does get distracted, especially by squirrels, but will go on-by when needed.
Read postings about Jack