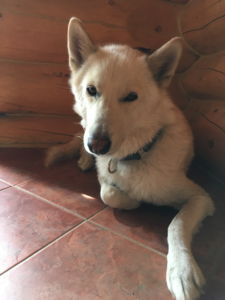 Name: Moose
Aliases: Oaf, Zeus (his real name); Caboose; Booba; Bubba
DOB: 12/1/2014
Breed: Husky
Acquired: Adopted from S.H.A.R.P.
About: Moose is a very big dog.
Bad Habits:
~ Wants to fight with Jack.
Likes:
~To run on the team.
Update 2019: We love our Moose. Moose is a big baby baboose and loves to run, but is not super fast. He loves to play with his brother Wayne.
Read postings about Moose