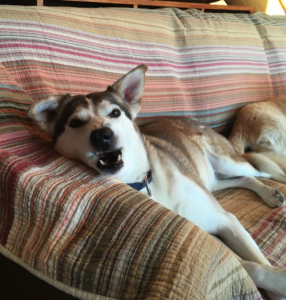 Name: Maude
Aliases: Maudette
DOB: 2008
Date Adopted: Dec., 2011
Breed: Alaskan Husky
Acquired: From Kelley Griffin
About: Maude is a little minnie girlie who is a tough cookie! Her brother is Wayne.
Bad Habits: Needs constant attention and petting.
Likes: To hug and cuddle.
Update: Maude injured her foot on the GinGin 200 in 2011. Actually, I injured Maude's foot because I left her bootie on for too long and it froze to her paw pad. When I took her bootie off, I injured her toe. We didn't notice the injury until a month after the race. We brought her to the vet and she got her toe-nail permanently removed. She ended up moving inside to recover and never moved back outside!
Read postings about Maude