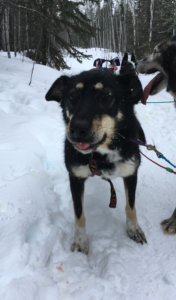 Name: Geronimo
Aliases: Geri
DOB: Jan. 2015
Acquired: A kennel in Ontario
Breed: Alaskan Husky
About: Runs lead but will neckline and dip.
Likes:
~To eat!
~ To get pet.
~Her Kong.
Bad Habits:
~ Dips, and doesn't really know gee or haw.
~ Is very bossy.
Winter 2022 Update: Geri moved inside in the summer of 2022 with our intent that she would retire, however it turns out that she still wants to run! She's an "insider" but joins the team in lead when we go for runs.
Read postings about Geri