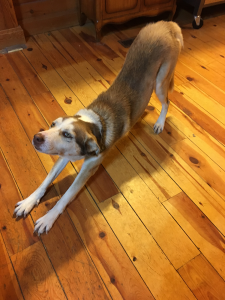 Name: Floppy
Aliases: Flopster,  Flop, Flop-a-loo
DOB: 04/02/2013 (made up birthday)
Breed: Husky
Acquired: Adopted from S.H.A.R.P., who rescued him as a stray.
About: Floppy did not make a good sled dog, but is a gentlemen inside.
Bad Habits:
~ Stole Myra and Bruno's position on the bed next to Ilana.
Likes:
~His mom, dad, and brother Moose.
~To go on walks.
Read postings about Floppy