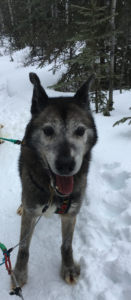 Name: Chaos
Aliases:
DOB: June 2015
Acquired: A kennel in Ontario
About: Litter mate to Yukon & Timber. Chaos is a very gentle young man. He's been running in swing and point. He will run in lead, but doesn't like to stay there for very long.
Likes: To eat! To be pet.
Bad Habits: Turns around on the line when getting the team hooked up.
August 27, 2023: Chaos became an inside dog– although he prefers to stay outside (for now).
Read postings about Chaos