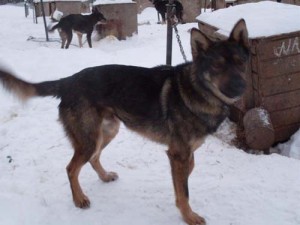 Name: Wayne
Aliases: : Wayno; Lame-o
DOB: 2008
Date Adopted: Dec. 2011
DOD: July 3, 2022
Breed: Alaskan Husky
Acquired: From Kelley Griffin
About: Wayno is a sweet boy. Can't run for beans, but is a nice guy.
Update 2019: Wayne has been my champion lead dog since 2012. I'm not sure if he knows commands (even after running lead for thousands of miles), but he likes to run out front. I've promised Wayne he can retire next year. Wayne overheats and prefers running at 12F or below.
Update May 24, 2019: Wayne has moved inside!
Bad Habits: Is crazy during hookup. Can't run more than 20 miles.
Likes: His sister Maude, and food.
Read postings about Wayne