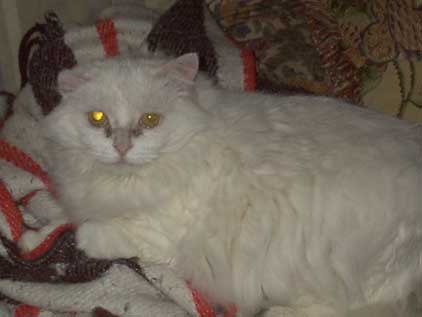 Name: Spot
Aliases: Spotted-puss; Spotted-one; puss
DOB: March 1, 1998 ?
DOD: March 17, 2009
Breed: Long Haired Puss
Acquired: Spot wandered onto our property in Efland, NC.
About: In the spring of 2000, I saw Spot in our yard in Efland. I thought I was seeing double. Freckles was there….but she was also there. Turns out that Spot wasn't Freckles' double, however, like Freckles she was all white. We couldn't find her previous owner, so Spot was a welcome addition to the family.
Bad Habits: Very sharp claws.
Likes:
~To sleep on the couch with her mom (or dad)
~To be pet (only on her terms)
~To drink out of our water glass
~Bosco
Eulogy: Spot was an amazing kitty. She was a fierce cat that lived in a house with 10 dogs. Spot hung out with the dogs, and was killed by the dogs that she was friends with, but also feared.  We love Spot very much and miss her. It's a sad sad day for the StinkyPups.
Read postings about Spot