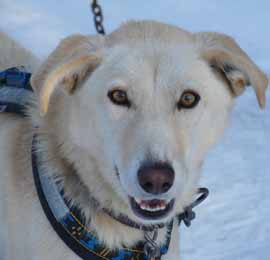 Name
: Spike
DOB
: 2005
Date Adopted
: Aug. 16, 2008
DOD
: August 7, 2021
Breed
: Alaskan Husky
Acquired
: From neighbor Tammi Rego. Per Tammi on her
kennel site
"Spike is turning into a very solid sled dog…Spike has a calm demeanor and is a lover. She runs VERY well and does great in the team."
About
: Spike is a very sweet dog to humans and her boyfriends, but she HATES Dutchess. Originally, I thought Spike was the instigator with Dutchess, but now I think it was Dutchess.
Bad Habits
: Attacks her partner on the gangline so badly that we've been running her alone.
Likes: Luke and her other boyfriends.
Update: Spike just moved inside (Aug. 30, 2016). She retired herself last season due to dragging her legs after a short 4 mile training run and I've been promising her that she'd come in for a year.? Her time has come finally come to move into the Stinky mansion.
Read postings about Spike