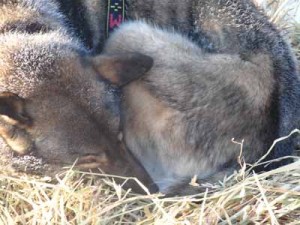 Name
: Rocket
DOB
: 2003
Date Adopted
: Aug. 16, 2008
DOD:
March 7, 2016
Breed
: Alaskan Husky
Acquired
: From neighbor Tammi Rego. Per Tammi on her
kennel site
"Rocket came…from Eric Butcher. He raced in the 2006 Quest with Eric and is a great dog. Rocket raced…in the 06 Chatanika 200, the 07 Cantwell Classic & the 07 Yukon Quest 300 in wheel and did a wonderful job. He's a nice addition to our kennel and a sweet-natured guy.."
About: Rocket is usually a reliable guy. He's very sweet and likes to give kisses. He tends to overheat if it's above 10 degrees. He's had snout damage, so sometimes wheezes when he runs.
Bad Habits: Chews his harness.
Likes: His mom and brothers and sisters on the wheel.
Read postings about Rocket