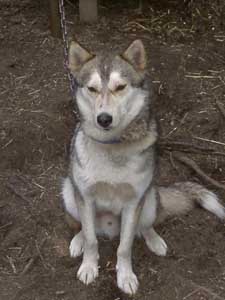 Name: Red
Aliases: Red-Head
DOB: 2001
DOD: April, Friday 13, 2018
Breed: Siberian Husky
Acquired: From Second Chance League.
About:
Red was one of my foster dogs who was so cute– I had to adopt him. Red's a small dog who has small-doggie complex. He likes to rough it up
with the big boys.
Bad Habits: Growly
Likes:
~To try to escape from the yard
~Running around the yard with his brothers and sisters
~To be pet
Update: Sept. 19, 2015– We moved Red inside! He was good for a few days, then got into a fight with Bruno and Danny. He didn't come in for a week– but he's gotten over the fight and now comes in at night.
Read postings about Red