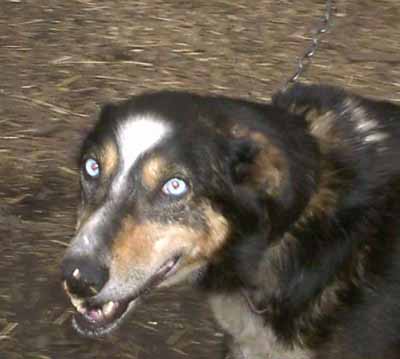 Name
: Levi
Aliases
: The Original Stinkypup
DOB
: 1992
DOD
: 12/15/2006. It was a difficult decision, but we finally euthanized Levi. He just wasn't doing well. He had difficulty standing and getting up, was bumping into things, and didn't seem very happy. His personality really changed after he got beat up in the dog yard, and when is sarcoma was removed. After these incidents he didn't like to be touched and wasn't very affectionate. We're very sad that Levi isn't with us anymore. He was a very special lead dog.
Breed
: American Husky
Acquired
: From the previous owner of my house.
About
: Levi is one of eight dogs that "came with the house" when we purchased it in May 2003. Levi is a former Yukon Quest competitor. He is is one of our lead dogs, however, he sometimes forgets his gees from haws (right from left). Levi is an independent and affectionate dog– he is also quite stinky!In March of 2005, Levi had a tumor removed from his leg. Since then, he hasn't been running. We tried running him in the 2005 season, but it just didn't work out. We brought Levi inside for his recovery, but he seems to like it better outside in the dog yard.
Bad Habits
: Barks before being fed.
Likes
:
~To be pet
~To be brushed
~To get attention
Read postings about Levi