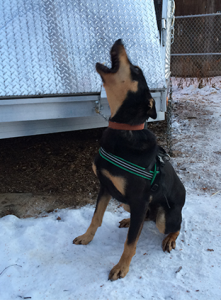 Name: Lasher
Aliases:
DOB: 2007
DOD: December 31, 2018
Breed: Alaskan Husky
Acquired: From our next door neighbor.
About: Lasher was a good sled dog, but his brother Goblin had heart disease, so I brought Lasher to the vet to get him checked out. The vet said the good news was that he didn't have heart disease, but the bad news was that he shouldn't run in harness because his feet are flat and he'll get arthritis. Lasher moved inside in Jan. 2015. Lasher is a very shy boy and it takes him a while to adjust to new situations.
Bad Habits:
~ Chews the line when he's not in lead.
Likes:
~To run!
~To get a kiss before eating his breakfast & dinner.
Read postings about Lasher