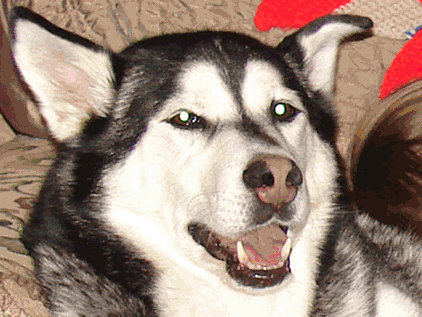 Name
: King Neptune
Aliases
: Neppy; Petunia; Tuna Fish
DOB
: 08/08/2001
DOD
: 11/28/2012
Breed
: Malamute
Acquired
: From the pound as a
Second Chance League
(SCL) dog and then officially adopted from SCL.
About
: King Neptune is a loving dog who has been jilted. He was adopted from the Fairbanks pound and kept for around 10 months. His mom took him back to the pound because he tried to kill her cats and he ate a goose. She re-adopted him and kept him for less than 24 hours because he dug out under his kennel and killed another goose. As he was eating the goose, his mom tried to stop him and her hand got bitten. King Neptune was returned to the pound and his owner requested that he be euthanized.Luckily, I was allowed to rescue him and bring him into the Second Chance League and then officially adopt him. King Neptune is a wonderful dog– he's a total lover and couch pup. He hasn't bother Spot the cat and gets along with all of the inside (and outside) dogs.
Bad Habits: Counter surfs.
Likes:
~ To be pet
~ Hugs and kisses
~ Human attention
~ To lay on the couch with his mom
~ Belly rubs and snuggling
Read postings about King Neptune
Epilogue: Nov 28, 2012
King Neptune was in the class of super special most awesome dogs. Not only was he super good looking, but he was an excellent snuggler and always wanted affection. Neptune slept by my side every night until he go sick. On the night before his death, I slept next to him on the floor in the kitchen. It was a very unsettling night because he kept trying to get up but had no energy to move. I'm glad that we were able to ease his pain and suffering. We will always miss him.