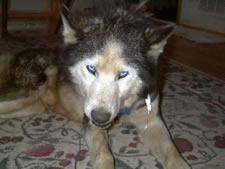 Name: Dudley
Aliases: Duds; Doodle Man; Doodles; Einstein; Coo; Coo Man
DOB: March 31, 1991
DOD: May 22, 2006
Breed: Siberian Husky
Acquired: From Voyaguer Outward Bound (VOBS) in Ely, MN.
About: We adopted Dudley (and Wild) from VOBS. Dudley is a fun dog! He's a big goofball and loves to run after he awakes from his 23 hour nap.
Bad Habits: His deafening yelp.
Likes:
~To sleep
~To be a goofball
Epitaph: Dud-el-lee-doo was the best little coo. Old man coo, how we'll miss you.
Dudley was an amazingly positive dog. He was always happy and made us laugh. We never thought he'd die– he was like the energizer bunny. Coo man– RIP.
Read postings about Dudley