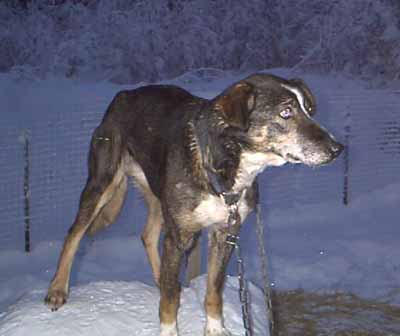 Name: Darla
Aliases: Darling
DOB: 1991
DOD: Aug 1, 2006
Breed: American Husky
Acquired: From the previous owner of my house.
About: Darla is one of eight dogs that "came with the house" when we purchased it in May 2003. Darla is a former Yukon Quest competitor. She is an older dog, and thus doesn't run very fast, however she is one of our lead dogs. Darla is an extremely intelligent dog, as well as very good looking. Darla is quite affectionate and loves to have her tummy rubbed while she rests her head on your shoulder.In the 2005 season, Darla is only up for 4 miles runs. We tried to turn her into an inside dog, but she hates it inside. So for now, she's out in the dog yard with her brothers Levi and Bandit.
Bad Habits: Eats cats; Destructive to property (when not supervised).
Likes:
~To be pet
~To be scratched
~To get all of the attention
Read postings about Darla