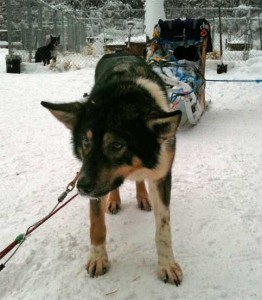 Name: Cozzy
DOB: 2009
Date Adopted: Dec. 16, 2012
DOD: May 27, 2022
Breed: Alaskan Husky
Acquired: From KF.
About: Cozzy is a great puller and loves his mom.
Bad Habits: Lunges at passing dogs. Plays rough with humans.
Likes: His mom.
Cozzy turned out to be an alligator. An alligator is a dog who jumps into a passing team and tries to eat members of the other team. Because of this, Cozzy is no longer a working sled dog!? Additionally, to add to the end of his sledding career, in the summer of 2014 he hurt his back some how.
Update 2019: Cozzy is such a sweet boy! We brought him inside after having an eye tag removed and thought he would be an inside dog, but Greg put him back in the dog yard because he liked to pee on everything. He doesn't mind living out there with his brothers Shrek and Kraken, but I'm looking forward to the day when he's an insider.
Read postings about Cozzy