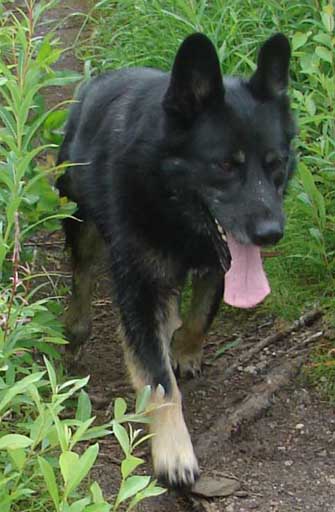 Name: Chester
Aliases: Chester-Bunny
DOB: Feb. 10, 2005 (???)
DOD: June 5, 2013
Breed: Shepherd/Husky
Acquired: Appeared in our dog yard.
About: Chester is an amazing BIG boy. I never had a Shepherd before, and now I understand why many people love them. Chester is just a big snuggle bunny. He's very affectionate, gets along with other dogs most of the time (except for the time he ripped into Neptune), and LOVES to run. He's not really a pet dog at this time, but he's a wanna be pet dog. He's a couch snuggler and lap dog, but the problem is he's a fence climber and can slip his collar. He's not really a sled dog either. He loves to run, but doesn't have the endurance of a sled dog.
Bad Habits:
~Fence climbing/jumping
~Collar slipping
~Deciding not to come when called
Likes:
~ To be pet
~ Hugs and kisses
~ Human attention
~To run, run, run, run, run
~To sit in the sled or ride on the 4 wheeler
Read postings about Chester