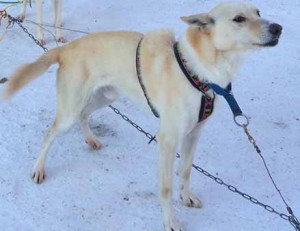 Name
: Bear
Aliases
: Bear cub
DOB
: 05/01/2009
DOD
: 10/21/2022
Breed
: Husky
Acquired
: From our next door neighbor.
Bad Habits
:
~ Eats slowly
~ Unharnesses himself
Likes
:
~To run!
Update 2019: Bear retired running in 2017, which is a shame because he likes to run and still wants to run, and was a core member of the team. We found out that he broke his leg as a puppy, and in 2017 he started to favor this leg– he also has a big nob on the ankle of the leg he broke.
Read postings about Bear