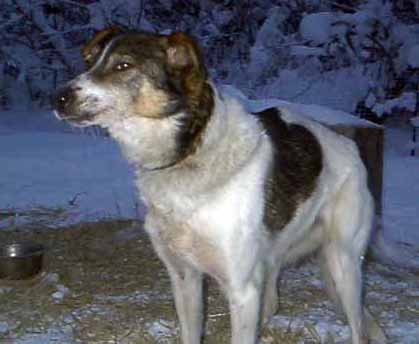 Name
: Bandit
Aliases
: Bandito
DOB
: 1995?
DOD
: July 26, 2007
Breed
: American Husky
Acquired
: From the previous owner of my house.
About
: Bandit is one of eight dogs that "came with the house" when we purchased it in May 2003. Bandit is a former Yukon Quest competitor. Although he's an older dog, he has a lot of power. Bandit is very affectionate and he is looking forward to when he can retire and come live inside with us.
July 2007 Update: We don't have enough room for Bandit to come inside, and he seems to want to stay in the dog yard. He's really an OLD man. Has a HUGE benign tumor and has difficulty walking, but he's still a sweety.
Bad Habits: Wants to be alpha, so sometimes he gets pissy with his siblings.
Likes:
~His mom
~To be pet
~To run around the yard
Read postings about Bandit