Due to our ageing gang, we decided it was time to adopt younger sled dogs. I attempted to adopt a dog from Fairbanks, but the person I was dealing with never came through, and the travel arrangements weren't very good. Apparently, Air Canada's cargo hold would take a crate that was 81″ long. Medium dog crates are 81.5″ long and Air Canada wouldn't accept this size crate. I was going to ship the dog via Air Alaska cargo from Fairbanks to Detroit and drive 6.5 hours to Detroit to pick up Laura (the dog I was going to adopt). The owner never responded to my last message with the details, so I didn't adopt Laura, which is lucky for Floppy and Jack.
My doggie dealer from SHARP said she had some potential sled dogs for us. After lengthy discussion with Greg, we decided to foster Floppy (3.5yo) and Jack (3yo). If they didn't work as sled dogs, we'd foster them.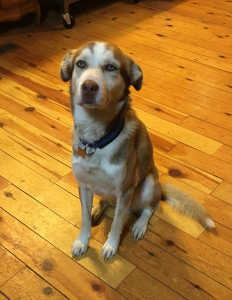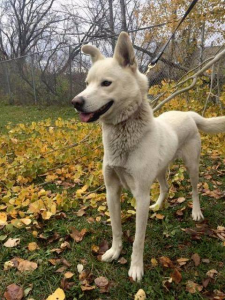 Jack is a very strong boy and a natural sled dog. We've only gone 4 miles with him, but he likes to go and keeps his tug line tight. Floppy on the other hand, didn't keep his tug line tight and was very unsure about the whole dog sledding thing. After his third run, we decided that he wasn't going to be a sled dog. I was ready to return him to SHARP and Greg said, let's see how he does as a house dog.
Floppy must have been someone's pet, because he's a natural at being a house dog. He learned how to use the dog door in one night. He's house-trained (except for one "I'm going to leave my mark here" accident." He's introduced himself to the couch and last night he slept next to me on the bed (to Mira and Bruno's chagrin!).
We're up to 11 insiders and 19 outsiders. However, Jack needs a kennel mate since he's all by himself.