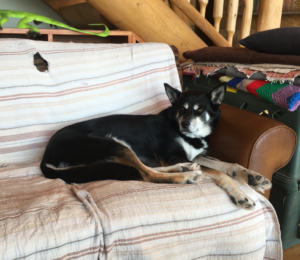 Name: Medusa
Aliases: Deusa
DOB: 10/15/2012
Breed: Alaskan Husky
Acquired: From neighbor.
About: Medusa is a smart girlie.
Bad Habits:
~Unharnessing herself and chewing the line.
Likes:
~To play with her brother, sister, & Uncle Moe.
Update 2019: Last season we found out Medusa has hip dysplasia, so she's no longer a working girl. We didn't move her inside because her and her sissy Siren are bonded.? Like her sissy, she is a sweetie!
Read stories about Medusa.